Fishing with Luncheon meat
posted on 14 August 2012 | posted in Hints and Tips

---
Tips of the Day when fishing with Luncheon Meat try to change It
slightly
When you Change the flavour of meat this can improve your catch rate by lowering the guard of the fish and working well with other feeds such as pellets ,hemp , and corn.
The must Popular flavours are Scopex, Strawberry, Mussel plus worth trying some spices such as cinnamon, paprika and curry powder.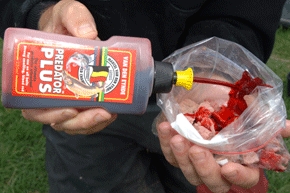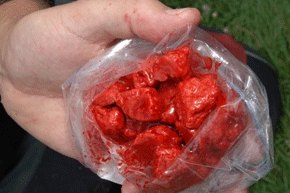 To flavour your meat, follow this simple guide:1
The evening before fishing, cut the meat into the size you need. Small cubes are ideal for carp and tench while larger chunks work best for bigger fish such as barbel.
2
Pop the meat into a plastic bag and add your flavouring. Be careful not to overdo the amounts as most additives are pretty powerful!
3
Blow air into the bag to inflate it and tie it off. Now give the bag a good shake to disperse the flavourings, evenly coating the meat.
4
Pop the bag into the fridge overnight and by morning the meat will have absorbed the flavouring and is ready to use.
Colouring?
On some waters, dyed meat works to the exclusivity of every other bait with red especially deadly. Meat will absorb colours fully over time and plain old food colouring will work but far better are the myriad of specially-designed fishing colours from manufacturers like Nash, Richworth and Mainline. You can colour luncheon meat while flavouring it, simply adding a good glug to cubed meat and leaving overnight.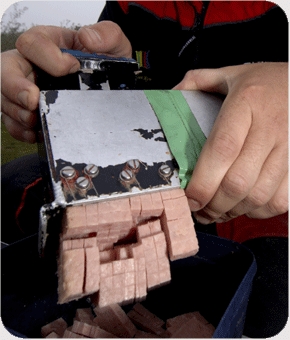 Meat choppers are great but best of all I like
Meat Punches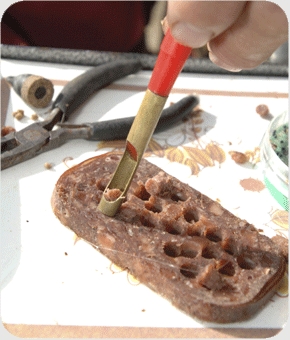 will often fool a fish that has seen it all before.
Punched meat can work especially well on venues where hook pellets are banned, especially when
fishing shallow
. By punching meat and leaving it to toughen in the sun, you create hard, pellet-shaped baits that will stay on the hook nicely.