Coach Justin Vists Lake Juvanze France
posted on 20 March 2012 | posted in Articles / News

---
Well what can I say apart from a good break away

After a Long drive down which Paul missed a turning
making it a extra 1hr on the route ( Very shocked for Paul), we all got to the lakes in one piece
Many thanks to Andy keeping me awake in the front
It was great that Jeff was stood waiting for us as we pulled in the lakes with a nice cold Beer (Well needed
)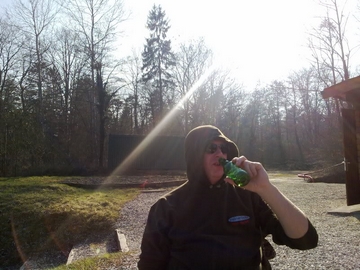 A quick tour around the lakes then Paul dropping of our fishing gear to our pegs
Going on last weeks reports it was the ends of the lake that the fish was holding up in
So with me and Simon in the Middle of the lake either side it was going to be a tough task to bank a few , but thought we could bait up the centre after simon using this marker float found a nice drop with a bar
So a quick set up and rods in the water along with a few kg of bait it was time to wait for a bite
then time for some Dinner which was very good
1st Night Gone and not even a Bleep or Any signs of fish moving
So After a Great Breakfast the next Morning and speaking to the others it seemed to be the same Middle down with only a few fish showing up the other end
2 More nights passed and the Same No Bleeps or No signs of any fish moving , so Simon decides to move to the other Lake ( Wise Move ) But I wanted to stick it out and try to land a Fish but it wasn't looking good
Tried to do a bit of stalking from the other end where I noticed many fish sunbathing under a fallen tree but they just didn't wont to know but wasn't going to give up that easy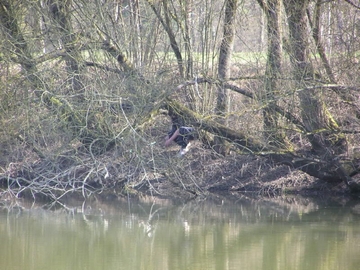 So Next day tried again and hooked into one free lining 2 bits of pop up corn but the fish snagged me within mins of being on.
So On the last Day still no Action for me , but I spotted a fish Roll about 5 mtrs down my right hand side margin but could cast to it due to the overhangs and snags
So sat back in the bivvy, had a smoke then thought to myself I need to cast to that spot so my only option was to strip to my boxer shorts and get in the lake.
So I did
up to my chest and 1st cast was right on the location Very Happy and my last option to bank a Fish
During the day the wind started to push down the lake for the 1st time all week which was a good sign but was it to late
Then it was time for the last Evening Meal with a few beers as always , I walked back to my Peg early Praying and thinking that was my last cast ok and not snagged
So rods in for the last night and fingers crossed it was time to get a few hours sleep ready for the long drive Back
Then I was woke up on the last morning at 6.15am with the right hand Rod Bending around
I couldn't get to my Rod Quick Enough with Paul already being Up and on this way around with the dreaded camera.
After about a 10 mins Fight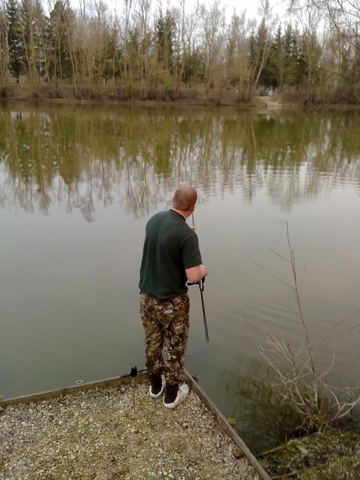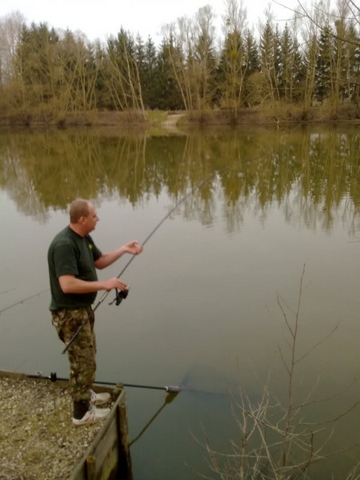 I ended up landing a Cracking 43lb 12 0z Mirror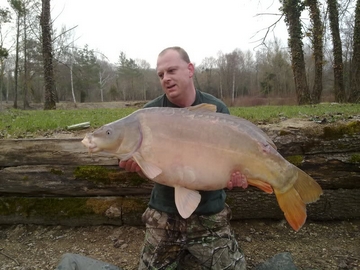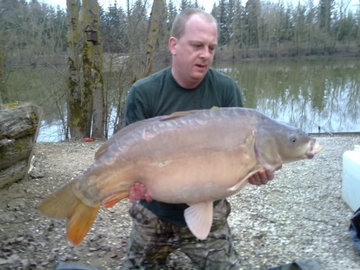 Well Happy as I worked So Hard to get one out of this Lake and Paid of in the End.
Plus best of All Caught on Mnt Baits
And was a unknown Fish so It was Named Nailor
I learnt so much from this Lake which I am sure will come in good use for next time we visit
This just leaves me to Thank Jeff on all his Efforts to look after Us on this great complex and Last of all The Nailors Crew that Went on the Trip
Great Place And Good Time had by All
Until Next time
J