HOME >> Carp Fishing Tuitions
Carp Session 48 Hour 2 Person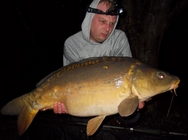 enlarge image
This is the one for you if you would like to know a bit more about carp fishing and modern day carp tactics.
with over 25 years experience in carp fishing , we would like to increase your catch rate , water craft and overall skills
48 hour Lesson
Courses can be tailored to your own needs. A session could last for a single day, a day & a night (24 hour) or longer, the choice is yours. For longer sessions we are often able to fish more than one water and cover many more skills
For 2 Persons aged 16 or above.
Included in tuitions,tackle,bait and fishing permits if the sessions are done on our lakes.
Please contact us on 07884 112775 for dates available.